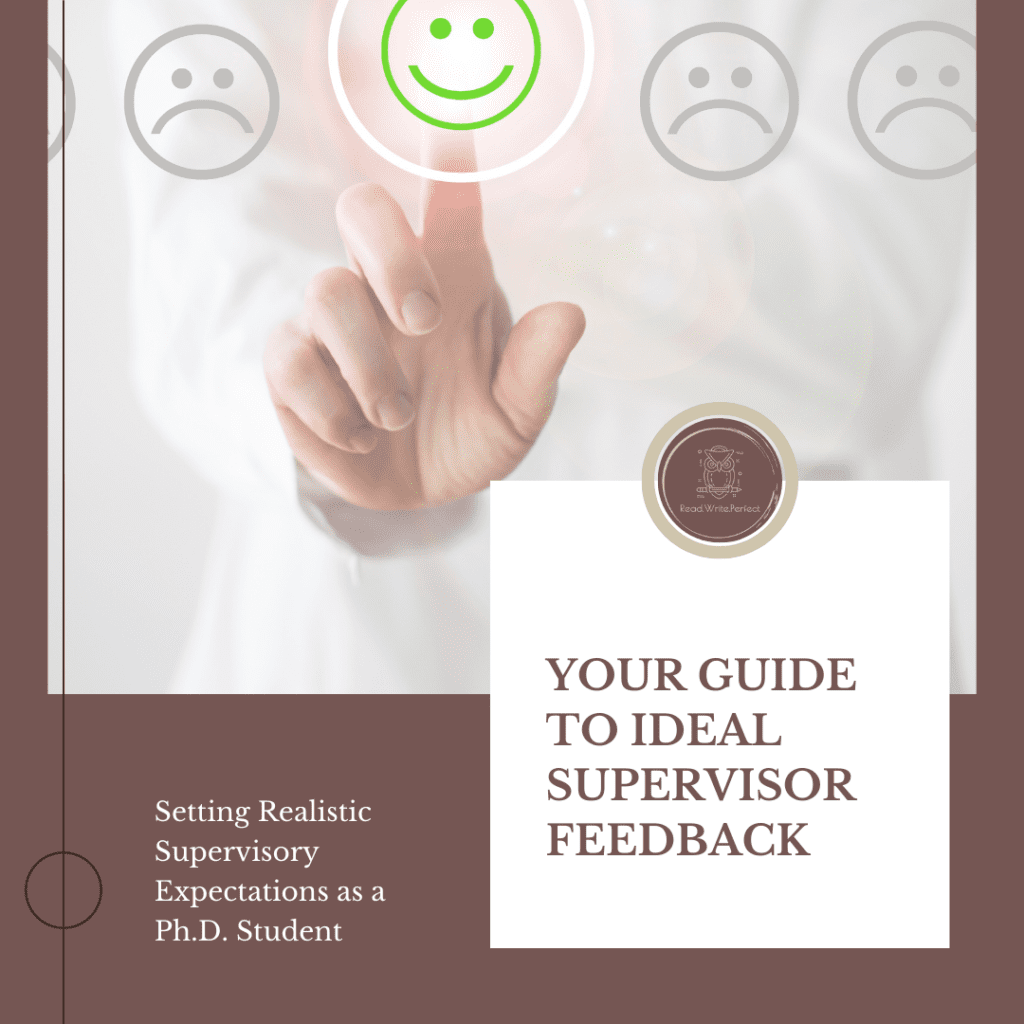 Setting Realistic Dissertation Feedback Expectations
Many students start their Ph.D. wearing rose-colored glasses. They might have high expectations for the upcoming research process, thinking they'll have support from their supervisor at every step.
The reality, though, is often much different. Students often struggle with their supervisory relationship and wonder if this is how things are supposed to be. So, let me clarify at least one thing for you – what ideal supervisor feedback should look like, so you can recognize if you are getting less than the ideal.
Feedback Should Be Prompt
Let me preface this by saying 'prompt' does not mean 'immediate,' especially considering that feedback takes time to prepare. But that doesn't mean you should wait weeks or even months.
Ideally, your supervisor will contact you within a few days to let you know they've received your draft and give you a timeline for expecting feedback.
Keep in mind that academics are often overworked and underpaid, meaning your supervisor is likely under a lot of stress. So don't expect same-day responses.
But at the same time, you shouldn't wait too long. Feel free to check in and ask for updates if it's been a few days. Your supervisor agreed to take you on and offer guidance, and you have deadlines to meet. So it's okay to be assertive and ask for prompt responses.
Feedback Should Be Clear, Thorough, and High-Level
If your supervisor's feedback leaves you with even more questions, it's not done correctly.
You should be able to read the feedback and have an "aha" moment about how to improve your dissertation. 
That means your supervisor should do more than remove sections of your dissertation or point out problem points. They should give thorough feedback on better meeting expectations or strengthening your argument.
Along those same lines, your supervisor should focus on more than just grammar. While they can make some notes on clarity, their job is not to be an editor. They should offer high-level edits that improve your research, fix logic gaps, and enhance your argument.
Feedback Should Be Constructive
You should never feel attacked or put down by your supervisor's feedback.
They should offer constructive criticism that improves your work without disrespecting you as a person or academic.
The best way to identify constructive feedback is to look for actionable points. If your supervisor only comments on quality without making suggestions for changes, that's not constructive criticism.
Again, feel free to address these issues with your supervisor. If you're unsure what to do with your supervisor's feedback, email them and ask for actionable points so you can better meet expectations.
Feedback Should Be Set Attainable Goals
Any feedback you receive should be reasonable and doable.
You're likely just as busy as your supervisor, and they need to understand that and respect your time. So they shouldn't ask you to completely rework sections at the last minute setting unrealistic deadlines. 
Using the SMART goals framework is a simple method to check whether your supervisor is providing good feedback. Ask yourself if the feedback is:
Specific
Measurable
Attainable
Relevant
Time-bound
If the feedback doesn't align with this framework, sit down with your supervisor and express your concerns.
Need More Help?
Now, this is what supervisor feedback should look like.
Unfortunately, many supervisors don't provide such support. In those situations, you may need to talk with them to set some supervisory guidelines. 
Another option is seeking outside help from a dissertation COACH LIKE ME. I can provide prompt, thorough, and detailed feedback on your dissertation.