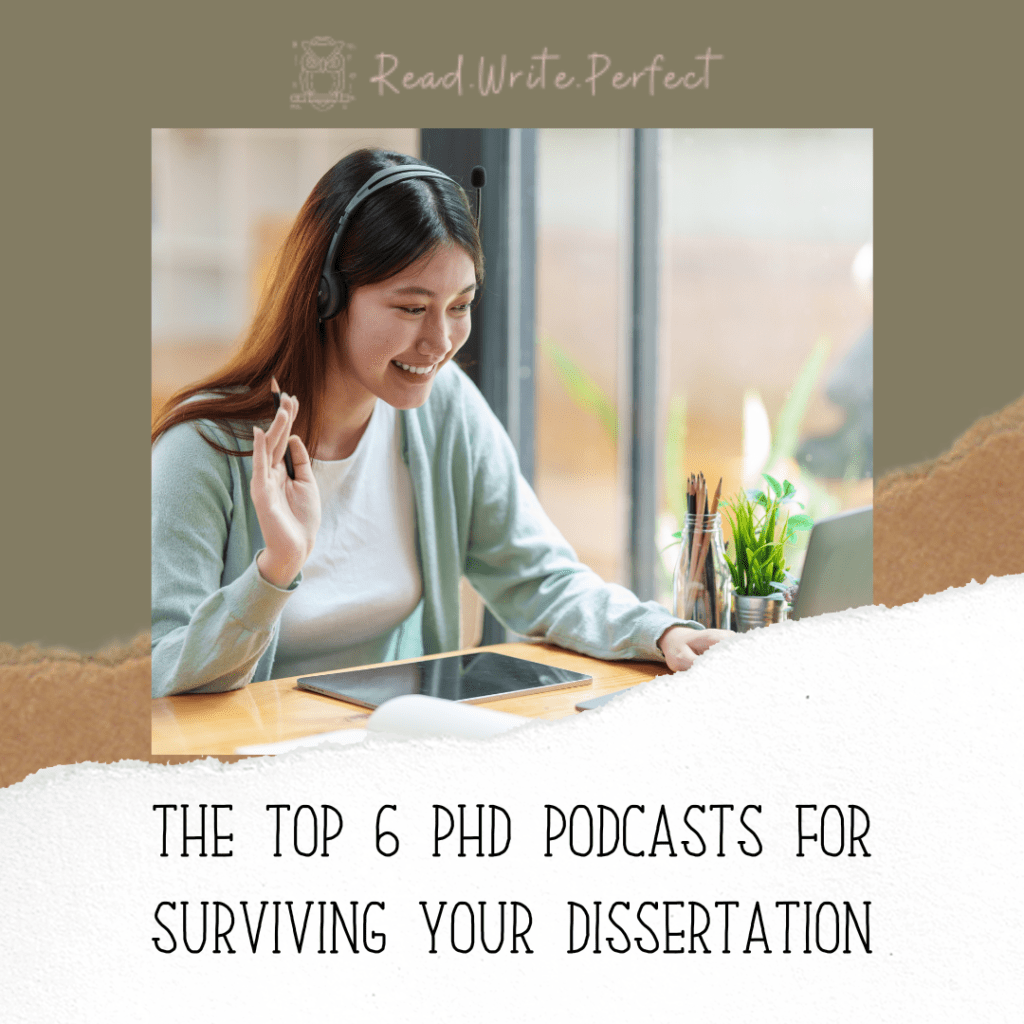 Back in August, I promised you a post with my line-up of fantastic PhD podcasts for dissertation students – so here it is!
In this post, I'll share six of my favorite research and study podcasts for dissertation students (and don't forget to check out the companion post 10 Essential Dissertation Blogs for Ph.D. Students!)
Dissertation podcasts are for when you need to get some advice and get your brain into thinking and working mode while actually doing something else (driving to work, cooking dinner, working out…).
I've curated six of the best that focus on academia, post-graduate career, lifestyle, and writing tips. They can be a source of encouragement and insight during the dissertation process.
I think these six podcasts offer a good range of what you need to get motivated and pick up some good dissertation tips at the same time – but let me know what you think!
Well-Written: A Podcast for Graduate & Doctoral Students
Well-Written: A Podcast for Graduate & Doctoral Students is great for both practical writing advice and motivation. In this podcast, Dr. Latasha Schraeder interviews people who have finished their dissertations to provide tips for current dissertation students. I love it for the honest with which the guests share their dissertation challenges, and the overall positivity that the podcast exudes.  
Self-Compassionate Professor
Self-Compassionate Professor focuses as much on wellness and mental health as it does on writing and research. This podcast by Dr. Danielle De La Mare is all about balancing academics and personal life to help students find wellness. With a new episode every few weeks, you won't have to wait long for a dose of self-help.
The PhD Life Raft Podcast
The PhD Life Raft Podcast is hosted by Dr. Emma Brodzinski and explores common problems that Ph.D. students face and how to overcome them. This podcast emphasizes "actionable tips" and resources to help you deal with common PhD issues, making it great for struggling students in particular.
Research Comms
For students more interested in the impact of their research than how to get it done, Research Comms by Peter Barker, director of Orinoco Communications, focuses on raising awareness about the real-world impact of current research. As well as being inspirational, these interviews are also packed with tips on how to grow your own network and effectively share your research with others.
Academic Writing Amplified
Academic Writing Amplified offers tips on academic writing specifically for women. This podcast, hosted by Dr. Cathay Mazak, is about writing and publishing productively, but with an emphasis on avoiding the culture of normalized burnout that is particular detrimental to women scholars.
BLK + in Grad School
In the BLK + in Grad School podcast, host Allanté creates a community for POC and women in graduate school. She is currently completing her PhD, but don't be fooled – she may not yet be finished, but she has plenty of wisdom to share!
Need More Help?
Need more help than a podcast alone can offer? Get personable help with dissertation coaching services.